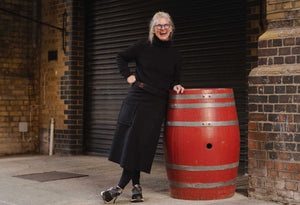 wrapped up
Hi, we're Jamie and Diane. We've worked in textiles for over 40 years. We know exactly what'll keep you cosy, and we've spent the last year making just that.
OLAF
Olaf is a blanket worn as a wrap-around kilt.
It's made to keep your core body warm, so the rest of you doesn't get cold.
Our grandmothers would always tell us to keep our kidneys warm, and that's just what Olaf does.
We make each Olaf by hand in limited batches using boiled wool - a fabric we've carefully developed based on our decades of experience.
who is olaf?
Olaf was born as autumn let go of summer and prepared for the long winter.
Olaf is made of us: leggings wearing Scandi-lass meets opinionated kilt wearing Scotsman. Maybe that's why he anticipates the icy frosts and breath wrenching winds with such a solid sense of coming home. And he knows how to dress to keep warm.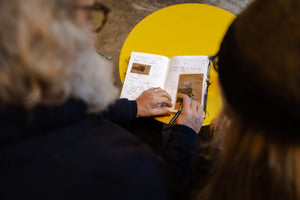 MEet jamie & diane
We've been working together in the clothing and textile industries for over 40 years, living in Ireland, Scotland, France, Italy and the USA.
We design, design, and design - so much so that it can be hard to know where to stop.
Olaf is the result of our conscious effort to put all our accumulated textile expertise into one beautifully crafted piece.
Get to know us better
Write to us
We're a little old fashioned here at Olaf McTarn. We like things that last and mail that's slow. You can write to us here:
11 route du Mariech
81240 Le Vintrou
France